Experience route 'through the land of wanderers and colonists'
The Pauperpad is a unique experience route that will take you along prominent sites of the former colonies of the Maatschappij van Weldadigheid (Society of Benevolence).
The route is offered as a Smartphone application and can be followed using GPS. Information about the area or a point of interest is displayed automatically along the way. And not only as a text, but also in the form of nice pictures, music, poems, and even (historical) film footage.
From starting point Norg, you will walk to Veenhuizen along a magnificent route. Johannes van den Bosch, a socially committed general, built three large asylums here in 1823. With his Maatschappij van Weldadigheid (Society of Benevolence), he wanted to 'raise' the paupers from the cities and the orphans from across the country 'to independence' through hard work in the peat. Many monuments in Veenhuizen still bear witness of this unique history.
A bike ride then takes you to Frederiksoord, where Van den Bosch founded the first free agricultural colony. The tour leads along special places and objects, each with their own story. From an ancient dolmen to modern art and from vast nature reserves to the still tangible memories of the Maatschappij van Weldadigheid. Cycling and walking make for a trip full of variety, and once in Ravenswoud, you will even have the option to take a nice canoe route.
Skating routes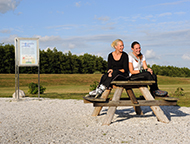 The Recreation Entrepreneurs Association has developed 4 beautiful skating routes. This can be downloaded here (note: you have to fold the pages).
Here's how you can download the Pauperpad route
1. Go to the App store on you Smartphone;
2. Search for 'Abellife' and download this free route app;
3. Open the App and go to 'Purchase route;'
4. Then search for 'Pauperpad' (under keywords);
5. Purchase the bundle. It will subsequently be available under 'downloads.'
6. Then, download the route bundle on your mobile phone.
Due to the size of the files, it is recommended to use Wi-Fi when downloading. You will no longer need the internet during the trip.
For more information, please refer to: www.pauperpad.nl
Here, it is also possible to book a complete Pauperpad package!